This page has been replaced. Please Visit our Training page for up-to-date information on our training
Training is very important to us at Avanti Homecare. We want to ensure that we provide the highest quality of care to our service users, which requires staff who are confident, capable and supported. This of course means that they must be well trained.
So what training do our staff undertake?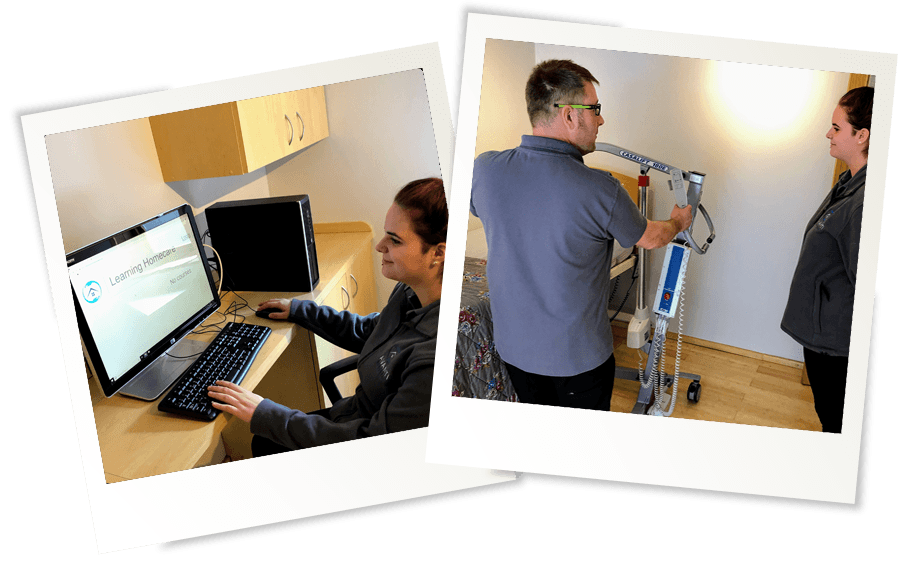 Health and Safety

Understanding health and safety in care is a key, every carer does a refresher course in this annually.

First Aid

We have our own in house "First Aid for Homecare" course that we review annually for carers to keep current on any changes in NHS recommendations.

Medication Administration, Pressure Care & Infection Control

This is such an important area for our carers to be confident and competent in. Again, we have built our own in house "Medication Administration, Pressure Care & Infection Control" course to make sure that we can train our team in specific  medication administration and recording and are able to recognise the signs of pressure sores commonly found in homecare.

The training is completed both online and by discussion and demonstration in our training room.

Safeguarding and Mental Capacity

Safeguarding is the word that is used to describe our responsibilities to help keep our service users safe from abuse or neglect. All our carers are trained in how to spot the signs of abuse or neglect.

Moving and Handling

A large proportion of the induction training is given over to practical training in how to safely move and handle people. This is all done in house, by our 2 qualified trainers.

Safety for both clients and carers is a key theme emphasised throughout the course which includes training both with and without equipment (eg hoists and lifting aids) commonly found in homecare.

Our carers are never allowed to use equipment in the field that they are not trained to use and must always be accompanied by someone who has used the equipment before. All our staff are encouraged to (and do) pop in for additional training with new equipment.

Shadowing

After induction training a timetable of shadowing with a member of the management team is arranged. Staff learn by observation and being observed. This can take place over a period of days or weeks depending on the staff member's experience.
If the shadowing period is successful they are signed off as fit to care and awarded the Avanti Homecare Induction Certificate.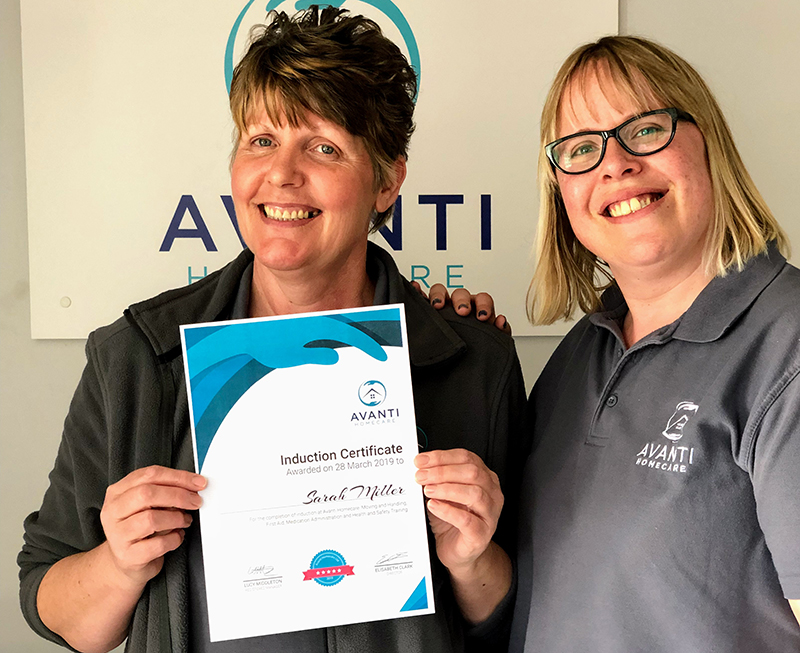 Ongoing training
All our carers who are new to the sector must complete "The care certificate" which gives them a complete overview of the care sector and increases their skill set further.
Once out caring for people in the community our carers are gently introduced to different clients and the different requirements of the people we care for. Experience counts for a lot, and our newer carers can gain a lot of knowledge by working and chatting with the more experienced members of the team. We encourage everyone to pop into the office and chat through any concerns they may have whenever they want to.
Annually all of the team go through refresher training to make sure that their skills and knowledge are up to date.
Some of our carers go on to do an NVQ qualification in health and social care to develop their learning even further. We are very excited to get the opportunity to support any of our staff in this additional training which will support them in progressing their career at Avanti.
If you think you might like to work at Avanti Homecare drop us a line on 0115 8571001 or fill in our application form. We are always looking for good people to join our team.