In care you can make an actual difference to someone's life.
Choosing to work with us gives you an opportunity to make a real difference whilst working alongside other people who also really do care. Care really can be one of the most rewarding jobs, you connect with people every day, putting a smile on their faces and brightening their lives. Above all your visits mean that they can continue to live safely in their own homes.
You don't need qualifications or industry experience to sign up, you just need a compassionate nature and a willingness to help others. There is plenty of time for training and all our branches have a supportive management team to make sure that you feel confident and sure in the care you provide.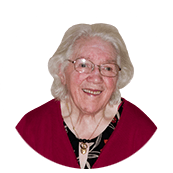 "I don't have family and the work the Carers do and the way they are with me makes me feel like they are my family. I can't thank them enough. I look forward to them coming because it gives me someone to talk to and gives me hope."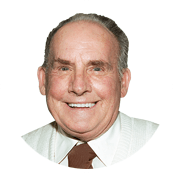 "I'm a Dad, Grandad, husband and had a life and still do. This is because of you and the help you give me. You are so important to me and think that you don't know this at times. Just understand, that without you, I'd be in a home, hospital or suffering."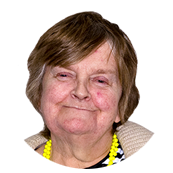 "I love seeing the Carers as they are so nice to me and they do care for me. I enjoy listening to them talk and when they include me, I love it. It makes me feel like a human again and valued."
What makes Avanti different?
We aren't like other companies, care for us doesn't stop with the clients. We value, respect and look after the people that work for us. You are a lifeline to the clients you support and we want you to feel the same way they do. Valued, loved and cared for.
Don't take our word for it… we encourage you to read all of our reviews on Indeed, here are a selection that we love: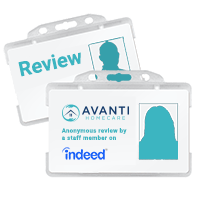 "I recently started with avanti and have been blown away with their kindness, compassion and support. Management genuinely care about their staff and this is clear in their approach and general ethos; they really do go above and beyond to ensure the carers are valued as highly as the service users. "

Anonymous review on Indeed 2021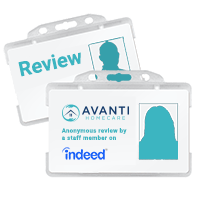 "When I left my previous care job which was such a terrible experience. I was gutted as I loved doing care work but heard that every care company was the same. When looking for a new company I chose Avanti, it was the best decision I made.
The management are brilliant and do everything they can to help you out, if we're short staffed they're out helping us"

Anonymous review on Indeed 2021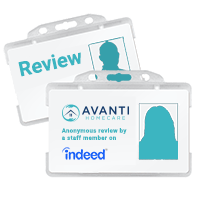 "What I really love about Avanti, is that we are familiar with our managers. They are not just a name behind a telephone like most care companies. Management always have time to listen and sort out any issues or concerns. Avanti are always looking for ways to make us feel appreciated, like staff gestures, employee of the month, Christmas present and bonus etc. It is so lovely to work for a care company that makes you feel appreciated and treats you like family and not to feel like just a payslip number."

Anonymous review on Indeed 2021
We aren't claiming to be perfect, we don't get it right for everyone every time. Read our reviews on Indeed and you will see. BUT we do try, and above all if you communicate with us we do listen and try to help. We always want to do the best we can. 
We genuinely do care about our staff and understand that you need great support to do great work.
What are the pay and benefits?
We want our team to be the most caring, compassionate people and so we give the best possible package.
Top rates of pay:

£11.00 per hour during the day
£11.50 per hour at evenings and weekends
£2 visit payment (paid for every visit to cover travel time and expenses) 
Guaranteed hours for everyone (30 hours for Full-time, 20 hours for Morning/lunch, 15 hours for Tea/bed)
We pay for your induction training

Paid personal development training days each quarter

As you are a direct employee you get all of the usual employment benefits including 5.6 weeks paid holidays and a pension
We take care of all the costs to get you going – DBS checks and uniforms are all provided by us.
We keep travel between clients homes to a minimum and always make sure you have time to travel in your rota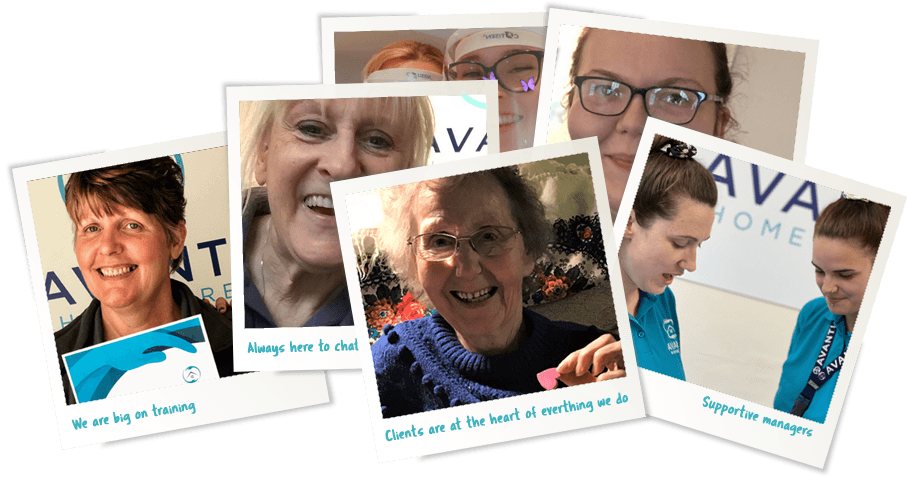 What hours and shift patterns do we offer?
Every member of our care team has a contract with guaranteed hours. We have three different shift offerings, Early shifts, Late Shifts and Full Time. Visit our hours and shifts page to find out in detail what we offer.
What is a working day like?
You will have an app on your phone which will guide you to our elderly clients' home.
Visits can be anywhere from 30 minutes to 2 hours (or sometimes even longer).
Once you arrive, the app on your phone will guide you in what care to provide:
Sometimes it's just being there to be company and have a chat
Some people need help around the home
Personal care is frequently required (help with showering, using the bathroom, dressing, hair, nails etc)
Meal preparation of healthy cooked and cold meals
Helping with hobbies and activities to brighten peoples lives
Administering medication 
Your training with us will ensure that you understand how to provide exceptional care. As you progress with us, you will have ongoing training and be exposed to more advanced care requirements such as:
Dementia care

Specialist requirements (like caring for people with Parkinsons or who have had a stroke)

Palliative care
How will I be trained?
Our training is different to other companies, we focus on training because we understand that you need it to feel confident in providing quality care. You don't need experience to start with us (although if you have that's great), we provide all the training you need.
Visit our training page for an in-depth look at our training.
Training overview:
Your journey with us starts with your week of paid induction training at our Ilkeston branch covering all aspects of health and social care
During your induction week you will spend 2 days out in the field with our most experienced care staff (we call them Care Leaders) learning through seeing and doing

Once you have completed your induction you will be supported in the field by our Care Leaders and Managers

You will complete the Care Certificate during your first 3 months with us at our training centre
You will have ongoing advanced training as you progress with us through your first year
Once you've been with us for a year, you can choose to do an NVQ Diploma qualification
After your first year, we want you to take control of your learning! You will have 4 days of paid training to use every year and can choose from a variety of topics
Want to progress your career? We offer opportunities to advance your career and achieve diploma qualifications
Here's how some of our experienced care staff have compared our training to their previous companies: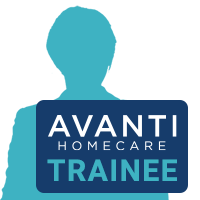 "At my last job I sat on a computer for two days. It meant nothing to me and could not link to the real tasks of care. On my first day delivering care, I felt that I knew nothing and panicked. I did my best. When I came to Avanti and completed your training, I realised how bad it was in my last company and how they had set me up to fail."

Avanti Trainee 2021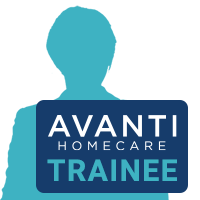 "Alina (our training manager) is so nice – you can sit in a training course and she doesn't come across as a trainer – what makes her brilliant is that she knows the job as a carer and that it is all about us and what is good for us and our clients – and is so enjoyable (not your average boring training) she make me want to do more courses, every time Alina's extra training courses come out I book on."

Avanti Trainee 2022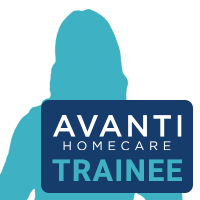 "I'm embarrased, why? I thought I knew what I was doing until I completed your training. It just shows me how different you guys are in comparison to my last company and what they did, or not as the case may be."

Avanti Trainee 2021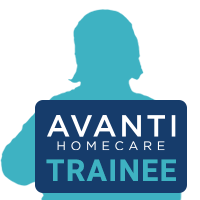 "At my previous company I had 3 days training if you can call it that! Very poor.  Your training is totally different. You are on the ball and organised. I feel comfortable and ready to work with Avanti's training and shadowing. My previous shadowing experience was 3 calls and I was shown nothing… "

Avanti Trainee 2021
How will I be supported in the field?
We know that every care company claims that they are there to support you and it's not always true,
but it's something we make sure happens. Our managers really do pick up the phone, they go out to
support you in difficult situations and you'll often see them out with you pitching in on care calls.
They care about you, your hours and your feedback about clients. We are one team.
Our managers are always on call during working hours and are always there to support you when you need it. 
We have super experienced care staff that we call "Care Leaders" that are also there to support you while working.

Each of our branches has a member of the management team whose job it is to drop in on clients and carers to see how they are doing, giving you the opportunity to check on any areas you are concerned about or to ask for guidance.

Our training department are available if you need to practice or understand something new.

Sometimes you just need a cup of tea and a chat, we understand that, just drop into your office and you'll always have a listening ear.
What do our staff say about how they feel supported?
Here's what our staff survey said about managers when we asked "What's the best thing about working for Avanti?"
The support management in the office have given me when I′ve needed it, they′re always here for you.
The management are very kind and genuine, the job itself is rewarding
The management always listen to what you are saying, they really do try and do their best to make everybody happy which is really nice to see
Management seem to listen about any concerns I have regarding hours and service users and do act on it.
The management team in the office are amazing, I can′t give them enough credit. I can easily talk to them if I have any issues or concerns and these are almost always acted on quickly.
Management is amazing, they are out as much as they can be tying to ease our rotas and they listen to everything
Management always listen to what you have to say
The supportive management staff, specifically Delenn and Jody as they are extremely hard working and always keep positive/calm even when all the staff moan and everything is hectic.
Great support not by only the management at the long Eaton branch, but the staff you work with
Avanti is an extremely hard working company and I am very proud of all the management for trying their best and helping out when needed.
Management itself is amazing, they are out as much as they can be as well as doing their own job
What do I need to apply?
Takes around 10 minutes to complete the online application form or if you prefer to apply on Indeed please do it there. Both work for us.
No experience is required (we will train you)
A caring, patient and compassionate nature (it also helps if you like a chat).
A valid driving licence and your own car
A smartphone 
Be able to work every other weekend
If you want to just have a look at the form, go ahead, you can always come back later and fill it in.