Training
Training is at the heart of what we do.
Whether you are changing careers or have many years of experience, we want you to be equipped to handle situations that you aren't used to and to deliver care confidently and knowledgeably. Your confidence will make our clients feel at ease and will make your working day much more enjoyable. For these and many more reasons, we focus on providing outstanding training from day one and throughout your career with us.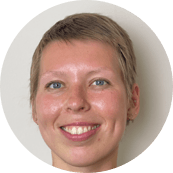 Alina – Training Manager
Alina runs our training department! She has 7 years of experience delivering social care training. She started her career as a carer before discovering a passion for training and getting the best out of learners. You will find her enthusiastically running training sessions or writing and refreshing our training materials as well as providing pathways to qualifications. Fun fact: she speaks at least 5 languages!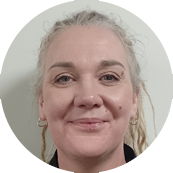 Cheryl – Trainer
Cheryl has been delivering social care training for the last 10 years. Before that, she worked in care for 18 years so has a wealth of knowledge and practical experience. She has a passion for face to face training and enjoys being able to support team members with their personal development. You will find Cheryl delivering induction training as well as bespoke training out in our branches.
What does my induction training week look like?
This is your first week of training with us and teaches you all of the basics in providing care to people in their homes. You will feel equipped to start delivering care but may well spend a further 1-3 weeks (depending on how you are doing – your managers will talk to you about this) after your first week working with a more experienced carer before you deliver any care on your own.
Here's what your first week of training will look like:
Monday
9am-4pm
Classroom
Registered Manager Induction
Classroom topics covered:
Moving & Handling Practical (Theory and quiz)
Moving & Handling Practical (Sign off)
Tuesday
9am-4pm
Classroom
Topics covered:
Understanding Your Role, Personal Development
Duty of Care
Medication Administration
Pressure Care
Health & Safety, Lone Working
Infection Prevention and Control
Fluids & Nutrition, Food Safety
Handling Information
Alcohol & Drug Awareness
Healthcare Procedures
Wed/Thur
Shadowing
In the community
You will work with our Care Leaders out in the community, you will experience each of the different shifts and start to understand the support we provide to our clients.
Shifts
Wed: Morning, Lunch & Tea
Thur: Morning, Tea & Bed
Friday
9am-4pm
Classroom
Topics covered:
Shadowing review
Basic Life Support
Mental Health & Learning Disability
Dementia
The Mental Capacity Act (MCA)
Safeguarding
Course Evaluation
Certificate ceremony
What extra training do I get in my first year?
During your first year with us we carry on building your skills with additional training days covering key topics.
3 months - Care Certificate Completion & Impact training

You will complete the official Skills for Care Care Certificate in our classroom with our trainers. They will take you through the theory, practical and assessments for the final topics which weren't covered in the Induction Training.

The topics covered are: Privacy & Dignity, Person Centred Values, Equality & Diversity and Communication Skills

If you are successful we will award you your first care qualification "The Care Certificate"

You will also complete our Care Impact training, this course runs you through why the job you do is so important to the people that you care for and the wonderful impact you can have on their lives.

6 months - Advanced Dementia Awareness training.

Entitled "Memories fade, but emotions last". During this course we will develop your understanding of dementia, the different types of dementia and the impact of these conditions on individuals and society

You will learn how best to support a person living with dementia and discuss positive interventions that can improve outcomes and quality of life for our clients.

9 months - End of Life Care Training

Our end of life care training aims to progress your skills and knowledge to be able to deliver care to clients approaching the end of their life.

You will learn the importance of person-centred approaches to end of life care and cover topics including communication and bereavement.

12 months - Mandatory refresher training

We update your skills and check in with all the key topics to ensure your understanding is up to date.
What about my second year?
After your first year, we want you to take control of your learning! You get 4 days of paid training to use every year to book courses with our training department. Courses you can choose from include:
Advanced Dementia training

Managing Challenging Behaviours
How can I get more qualifications and progress my career?
After you have been with us for a year you will already have "The Care Certificate" and all your advanced training. But we don't want your training to stop there! At this stage you are in control of how far you want to go, you can choose to progress your learning and your career by undertaking a Diploma (these used to be called NVQs). Or, if that's not how you want to go, you can choose to sign up for some additional internal training courses run by Alina and her team. Care really is a sector where the learning never stops, and we want to help you to continue to develop your skills.
What does a career at Avanti look like?
Alongside the training comes opportunities to progress your career. As a company we are growing and expanding and so opportunities come up regularly. We have had carers join us and progress into all roles in the care team (including Registered Manager!). We look forward to supporting you to make each step along your career path with us.
Career progression, roles and qualifications you can study at Avanti Homecare
Role
Qualifications you can undertake
Care team member (Hourly pay) As a valued member of our care team you can study for a Level 2 or 3 Diploma in Care after your first year with us. If you want to progress your career your next step would be to look out for a Care Leader opening.
Level 2 Diploma in Care The next step from "The Care Certificate" is a Level 2 Diploma. Any member of the care team can do a Level 2 once they have been with us for a year.
Care Leader (Hourly pay) There are 3 Care Leaders per branch promoted from within the care team. As a care leader you will provide help and support to both clients and team members. Each week you have self directed time to help out where you see need. We see Care Leader as a first step towards management (if you want it).
Level 3 Diploma in Adult Care We want our Care Leaders to undertake a Level 3 to expand their knowledge and progress to management.

Management Team

Care Coordinator (Salaried) Our care coordinators are salaried office-based roles. As a care coordinator you will be a part of the branch management team and responsible for rota generation, management of the care records and answering client and staff queries. All members of the branch management team share the duties of the on-call phone.
Level 3 Diploma in Adult Care If you don't have one we prefer that you get your Level 3 at this stage. You don't need one to be a care coordinator but you must be willing to undertake it.
Care Quality Manager (Salaried – Requires Diploma Level 3) Care Quality Managers responsible for checking that we are delivering the highest standard of care to our clients. As a CQM you would be both in the office and out and about meeting with clients and care staff and ensuring we are doing the best job we can for everyone. Where you feel staff need more support or training you will put that in place. Where you see that clients need changes to care you will consult and make changes. As the second in command at each branch and a member of the branch management team you will also share on-call duties.
Level 5 Diploma in Leadership Management for Adult Care If you want to progress from CC or CQM to being a Registered Manager then this Diploma is a requirement. It is degree level equivalent.

---

Management Coaching We support you in your career development with us with management coaching workshops provided by "Impact People and Change". This helps you understand how to get the best from people in a kind and caring and supportive way.

Registered Manager (Salaried – Requires Diploma Level 5, Nursing Qualification or Health and Social Care Degree) Each of our branches has a manager who is registered with the CQC and responsible for the running of the branch. What do you have to do? Well… everything, you are responsible for planning care for the clients, ensuring rotas are fair, managing the office and the care team and making sure everyone is well looked after. There's lots of record keeping and contacting other health agencies. Visiting clients and care teams in the field. It's a big job.
Level 7 Diploma in Health and Social Care Management Equivalent to a masters degree. You don't have to undertake this qualification but it's there if you want to.

---

Management Coaching At this level we provide 1 to 1 coaching to help you improve your management skills and get the best from your team.